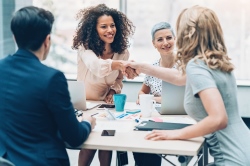 The December edition of ILSPA's Legal Secretary Journal has just been published.
December is a good time to prepare, plan and work through any tasks that need to be done before the Christmas office closure. It is also the perfect time to think about the goals you want to achieve in the new year. Being organised will help you to have a great start to 2020. Take a look at our article for some helpful tips.
Last month, our partners Secs in the City held their annual PA of the Year Awards. It was a wonderful event which was attended by PA, EAs and Office Managers throughout the UK. You can read about Eleanor Lawson who was a finalist at the awards and is a Legal PA at DWF Law LLP. Next month, we have some exciting news to share with you about one of our Fellowship Members, who won the prestigious title of 'Legal PA of the Year 2019'!

There is a 50% discount available to ILSPA Students and Members on Microsoft Office courses at the moment. If you want to improve your skills in Word, Excel, Outlook or PowerPoint, please take a look at our 'Course Discounts' page which can be found in the Student and Member area of our website. This is an offer not to be missed!