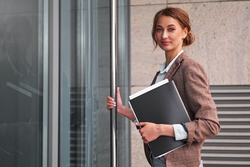 DEDICATED - The Legal Secretary Journal September Edition is now available to view online.
We hope you had a wonderful summer. Now that September is upon us, we are looking forward to the new academic year and welcoming the new Students it brings. Good luck to those who have enrolled on our Live Online Classes which start on Wednesday 7 September, as well as our distance learning Students.
This month, our partner, SecsintheCity, had the pleasure of speaking with one of the finalist's of the PA of the Year Awards 2021. In this Q&A, you can find out about Aaron Bailey's journey to becoming a Legal PA, the incredible work he has done for the LGBTQIA+ community and his experience of being a finalist.
If you are looking for work, we have some great career advice articles for you. Our partner, Simply Law, provides guidance on how to tell an interviewer about yourself in the most effective way. They have also produced a handy guide on how to include bullet points in your CV. Maybe you are interested in temping? If so, take a look at "What is Temping & How do Temp Agencies Work?"
Whatever stage you are at in your career, finding joy in your role leads to a rewarding experience. If you are feeling despondent or unmotivated, seeking a new job is not always the answer. Sometimes a positive mindset is your strongest tool!